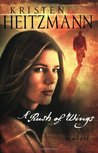 A Rush of Wings by Kristen Heitzmann
My rating: 4 of 5 stars
I don't read many contemporary novels anymore but this one was recommended to me, and I enjoyed it. It has a nice mix of suspense, mystery, and romance. I connected with the characters pretty well, and the author kept me guessing as to who would shake out with whom, which was fun.