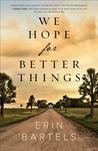 We Hope for Better Things by Erin Bartels
My rating: 4 of 5 stars
This story is actually the tale of three different women from three different times. Mary lives during the Civil War and deals with the fallout of an absentee husband, a farm to run, and helping escaped slaves. Nora lives during the turbulent times of the 1960s when race riots were reshaping inner cities. Elizabeth is a journalist struggling to land the big story that will cement her career in the modern world.
All three women are related, and all three go through some serious trials. There are a lot of characters in the book and that can be hard to follow at times. Time-slipping back and forth isn't my favorite, but the author does a credible job with it.
This isn't a happy read, it's disturbing and thought-provoking, it'll stay with you after you close the book. If you're looking for something challenging rather than relaxing, this may be the book for you.