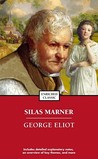 Silas Marner by George Eliot
My rating: 3 of 5 stars
A few weeks ago, I saw a copy of "Silas Marner" on the shelf in a used bookstore for $2.00. I hadn't read it since high school when I wasn't particularly thrilled with it. But … I wanted to read it again. And I enjoyed it.
It's not anything like today's writing. It's 100% telling from the omniscient viewpoint and at times it was difficult to focus on some of the passages when my mind kept asking, "What on earth does this have to do with the story?" But betwixt and between those sections, it is a good story about human nature. I'm glad I read it again.