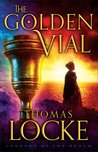 The Golden Vial by Thomas Locke
My rating: 3 of 5 stars
This is the third in a series. The first two are Emissary and Merchant of Alyss, both of which I enjoyed very much. The Golden Vial doesn't quite reach their level. If you've read the first two, it's worth reading this one to follow the progress of the characters, but it lacks the depth and complexity of the first two books. We're left with the feeling that there will be more books in this series, so I hope they are more in keeping with the first two, and I will keep reading to find out.