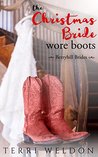 The Christmas Bride Wore Boots by Terri Weldon
My rating: 4 of 5 stars
If you're looking for a feel-good, Hallmark-ish contemporary romance Christmas story, this is a good one. Nothing complex or complicated, just a bit of Christmas cheer.
Molly Kincaid is the tomboy grown to veterinarian of the town. Jacob Thompson is the widowed pastor and father of young Emma. While Molly has harbored an attraction for the pastor ever since he came to town, she knows she's not the stuff a pastor's wife is made of. But she gladly volunteers for the position of director of the living nativity for Christmas. Being in close contact with Jacob on a regular basis is raising eyebrows from some in the church. Some who agree that she is not what the man needs in a wife.
A tumble of emotions with the required ending for a satisfying Christmas story.