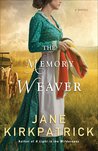 The Memory Weaver by Jane Kirkpatrick
My rating: 4 of 5 stars
I enjoy Jane Kirkpatrick's books. They are authentic, honest, and enlightening. She doesn't romanticize history. She shows the grittier side, the not-so-pretty side, the earthy side. I like that. And she wraps the story around true history and historical figures.
Eliza Spalding was the first white child to survive birth in the Pacific Northwest. Taken hostage by Cayuse Indians while still a child, she returned to her family traumatized by the event. That trauma defined much of her life for many years. This is her story.
We're such a wimpy generation. We think we've got it so bad. We're pathetic. Reading about people like this, people who overcame incredible circumstances, people who dirtied their hands to scratch out a living … reading this puts our meager lives into perspective. I highly recommend it.